COVID-19: Precautions, Hygiene, Stress, Teladoc, and more
Latest Update about Coronavirus for People on Medicare.
Who Is At Risk?
According to the CDC, early information shows that some people are at higher risk of getting very sick from COVID-19. This includes:
Older adults and people of any age who have serious underlying medical conditions, such as diabetes, heart, lung or liver disease, renal failure, moderate to severe asthma, severe obesity etc…
Have a weakened immune system, including those undergoing cancer treatment.
COVID-19 Symptoms
According to the CDC, COVID-19 affects different people in different ways. Most infected people will develop mild to moderate symptoms, but for some it could be more serious, even life threatening.
Some common symptoms include:



Some people may also experience:
Aches and Pains
Runny Nose
On average it takes 5–6 days from when someone is infected with the virus to show symptoms, however it can take up to 14 days. It is recommended that people with mild symptoms who are otherwise healthy should self-isolate. It is advised that you seek medical attention if you have a fever, a cough, and difficulty breathing. Call ahead to the facility you are going to so they can properly prepare for your arrival.
Precautions:
If you are at higher risk for serious illness from COVID-19, it is extraordinarily important for you to take actions to avoid getting sick. Some recommendations to avoid exposure to the illness:
Stay home, avoid close contact with others
If you start to present with symptoms of COVID-19, call a medical professional as soon as the symptoms start, especially if you are at higher risk.
If it is available to you, create a support group of trusted individuals who can help you with grocery store runs, errands, and setting up telemedicine appointments. Make sure and share your important medical and health information with them so you can ensure they are able to help you with any situations that could arise.
Cancel all non-essential, in-person doctor's appointments. Use telemedicine services, which enables you to communicate with your doctor via video, phone or email, rather than face-to-face.
Have a plan for if you get sick. Make a list of medications and medical contacts, and know where to find health care documents like advance directives (a living will). Determine who will care for you at home should you become ill, and tell them what sort of care you would want if you became too ill and unable to speak for yourself.
If possible, try to have a 1-month supply of medications and a 2-week supply of food on hand. Along with prescription medications, have a 1-month supply of over-the-counter medications like cough suppressants and fever reducing drugs.
Ask your physician or local pharmacy if prescriptions can be delivered.
If you do not have someone who can shop for you, contact your local grocery stores to see if they offer online ordering and home delivery. Ask them if they know of any local nonprofit services to assist with food or meal delivery.
Limit visits with friends and family members- specifically young children. While your friends or family members may need to run errands for you, please practice social distancing and remain 6 feet away from them. Have your visitors leave food or grocery items at the door rather than entering the home.
Avoid close contact with people who are sick or who have recently been sick.
Wash your hands often with soap and water for at least 20 seconds, especially after being in a public place, or after blowing your nose, coughing or sneezing. If soap and water are not readily available, use a hand sanitizer with at least 60% alcohol.
Avoid touching your eyes, nose and mouth with unwashed hands.
Wear a cloth face covering to cover your mouth and nose when around others.
Cover your nose and mouth with a tissue when coughing or sneezing and throw the tissue away after use. If a tissue isn't available, cough or sneeze into your elbow or sleeve, not your hands.
With a large number of COVID-19 cases spanning the globe, doctors and experts everywhere agree that one of the best and easiest ways to help avoid the spread of infectious disease is proper, consistent handwashing.
Proper handwashing not only reduces the spread of Coronavirus (COVID-19), it can help prevent the risk of getting or spreading other viral illnesses such as cold and flu.
It's a simple solution, but it must be done properly and with soap and water. If you do not have soap and water available, your next best option would be to use an alcohol-based hand sanitizer. (If you use hand sanitizer, the CDC recommends consumers use an alcohol-based hand sanitizer that contains at least 60% alcohol)
Proper handwashing not only reduces the spread of Coronavirus (COVID-19), it can prevent the spread of other viral illnesses such as cold and flu.
Steps to Effective Hand Washing
When Should You Wash Your Hands
When should you use hand sanitizer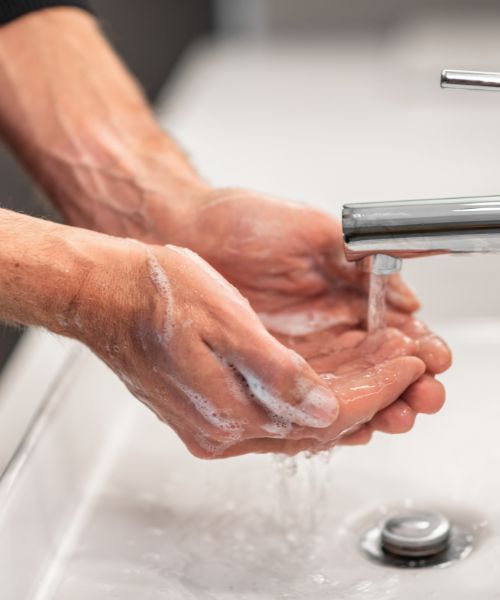 Five Simple Steps to Effective Hand Washing
Wet: Put both your hands under clean, running water.
Lather: Apply a generous amount of soap to the inside and back of your hands as well as your fingertips. Wash your hands for at least 20 seconds (but 40 seconds is even better), and don't forget to wash under any jewelry you are wearing and under your fingernails. Your fingertips are especially important as people often put their fingers on their face, nose, and eyes. This is how the virus spreads.
Scrub: Rub both hands together and move your fingertips around both hands. You don't need a scrub brush. You don't need to make harsh, scrubbing movements.
Rinse: Return both hands to the running water and gently wash away the soap.
A new poll recently released by the American Psychiatric Association (APA) has found that nearly half of all Americans (48%) are anxious about the possibility of becoming seriously ill of dying from the Coronavirus. Far more Americans, 62%, are anxious about the possibility of a family member or friend catching the virus.

The poll goes on to show that the fears of this virus are having a serious impact on our society, from concern about finances, to how stay at home orders are affecting our daily lives and the economy, to worries about running out of food, medicines or supplies. The stress and anxiety from this pandemic could have serious effects on our mental health.
Everyone reacts differently to stressful situations. Taking care of yourself is so important during this time. Here are some things you can do to help support yourself and your mental health:
Take breaks from watching, reading, or listening to news stories, including social media. Hearing about the pandemic repeatedly can be upsetting.

Make time to unwind. Try to do some other activities you enjoy. Read a book, put together a puzzle, work on some gardening.. etc

Take care of your body. Take deep breaths, stretch, or take a walk. Try to eat healthy, well-balanced meals, do some exercises, and try to get plenty of sleep.

Connect with others. Talk with people you trust about your concerns and how you are feeling. This could be by phone, emails, or by video chats. If you do not know how to set up a video chat program, as a relative or friend to help you. The programs work on most mobile devices, computers or laptops, or tablets. It is a way to have a "face to face" conversation while still practicing social distancing.
If you start to notice your stress and anxiety worsening, and it begins to get in the way of your daily activities for several days in a row, please call your healthcare provider.
On Friday March 6th, President Trump signed an $8.3 billion dollar measure to help tackle the coronavirus outbreak as the number of those infected in the United States continues to rise.
This piece of legislation provides federal public health agencies with money for vaccines, tests and potential treatments and helps the state and local governments prepare and respond to the threat.
This measure would also allow Medicare to expand the use of telemedicine in outbreak areas, potentially reducing infection risks for vulnerable seniors.
Currently telemedicine is now limited primarily to residents of rural areas who do not live within a close distance to doctors and specialists. The bill allows the government to waive those restrictions to help deal with the public health emergency the coronavirus outbreak has created.
Scientists who have been tracking this global respiratory disease outbreak have recorded that the coronavirus takes a higher toll on older people, patients with already compromised immune systems, and patients suffering from multiple chronic conditions. Death rates have been higher among older patients, while younger people are more likely to get a milder form of the illness.
Telemedicine cannot take the place of a swab of the throat, the process used to collect a sample for scientific testing. Patients who suspect they may have COVID-19 the illness caused by the coronavirus will still need to be tested physically, whether at a clinic or doctor's office.
Telemedicine, while unable to take the place of an appropriate diagnosis, will help doctors to be able to make special arrangements to safely receive a patient who is ill and may suspect COVID-19 to be the diagnosis.
Most importantly, telemedicine would offer a way for Medicare beneficiaries in affected areas to take care of ongoing medical issues without having to go to a doctors office and risk coming into contact with someone who is sick.
If telemedicine proves to be beneficial during this outbreak, there is hope it could lead to permanent changes making it further available to seniors. It could also open the way for more lasting changes in Medicare's coverage of virtual health including videoing into a doctor or the use of devices that could send over measurements to the office such as heart rate etc.
Presently Medicare Part B covers certain telehealth services. You will pay 20% of the Medicare approved amount for your doctor or other health care provider's services, and the Part B deductible applies. You will pay the same amount for telehealth services that you would if you receive those same services in person.
Beginning in 2020, Medicare Advantage Plans may offer more telehealth benefits than Original Medicare. These benefits can be available in a variety of places, and you can use them at home instead of going to a health care facility. Check with your plan to see what additional telehealth benefits are offered.
To learn more about Medicare's coverage of telehealth: https://www.medicare.gov/coverage/telehealth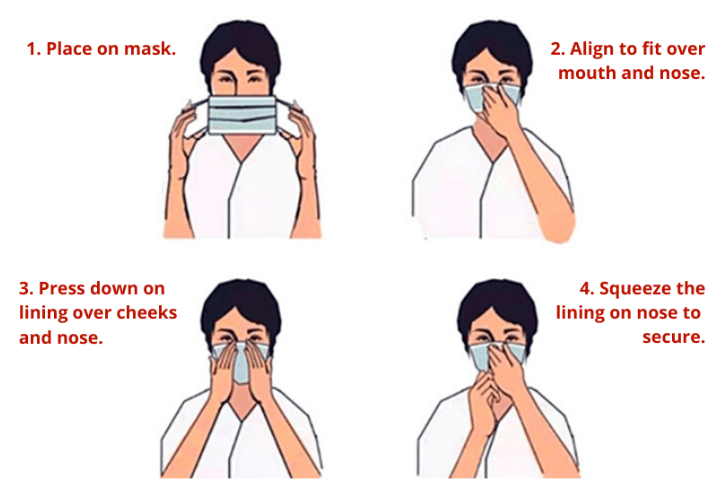 Unfortunately scammers find a way to take advantage in times of uncertainty, and the Coronavirus pandemic is no different. It is important that during this time while you are working hard to ensure your health, you also need to protect your financial health.

The Federal Trade Commission has identified several of them, and is offering tips to help you protect yourself and others. You can get full details on their website. Some of the scams include:
Calls, emails or text messages claiming that someone you know has tested positive for the COVID-19 virus and you should send money for a home test kit, or medicines to take to protect yourself from the virus.

There are currently NO home test kits, vaccines or any prescription or over the counter products available to treat or prevent the COVID-19 virus at this time.


Do

NOT

respond to any calls, text messages or emails regarding stimulus checks from the government. You do not need to sign up for your payment. They will either arrive by direct deposit in your bank account, or they will be mailed to you.

Click here for more information.




Do your homework when it comes to making donations. Never make a donation in cash, by gift card, or by wiring money.



During these uncertain times it is best that we do all that we can to protect ourselves and each other. If you feel that you have been a victim of a COVID 19 scam here is the information you will need to report it.